From time to time I get videos from odd sources.  Back during the Bush era, selling terrorism was a big business, that and silencing people. 
One of the government operations stumbled over was the famed "DC Sniper," forgotten by all.
We will begin with the impossible. 
Williams was a combat vet, fought in Desert Storm, 16 successful years in the military, real records of special schools, records the army lies about when asked but doesn't disprove.
This man was intelligent, a success, a perfect soldier, highly fit, top expert in martial arts, record of leadership ability, heading to a fat retirement and then he goes off the map and begins a life of "cover and deception," a typical spy, a modern day "Michael Weston," hardly a serial killer.
Movie star good looks, Armani at the homeless shelter, there isn't a single word of truth thus far heard about him until now.
This is someone with access to top circles in DC, now, we are told, dead in the quickest execution in history, all arranged through his own wife, if you can imagine the coincidence.
Oh, you will love this film and my deep appreciation and respect to the very real journalist who put it all together.  To begin, we get the "short and sweet."
---
Here is what Wikipedia tells us, for those who have forgotten:
The Beltway sniper attacks took place during three weeks in October 2002 in Washington, D.C., Maryland, and Virginia. Ten people were killed and three other victims were critically injured in several locations throughout the Washington Metropolitan Area and along Interstate 95 in Virginia. It was widely speculated that a single sniper was using the Capital Beltway for travel, possibly in a white van or truck.
It was later learned that the rampage was perpetrated by one man, John Allen Muhammad, and one minor, Lee Boyd Malvo, driving a blue 1990 Chevrolet Caprice sedan, and had apparently begun the month before with murders and robbery in Louisiana and Alabama, which had resulted in three of the deaths.[1]
In September 2003, Muhammad was sentenced to death. One month later, Boyd Malvo was sentenced to six consecutive life sentences without the possibility of parole. On November 10, 2009, Muhammad was executed by lethal injection.
[youtube a9vyAn1F4AA]
The video above was received from a "source."  It was uploaded from the Netherlands, has a very misleading title and is one of the finest pieces of investigative journalism I have seen.  It ties the DC sniper to the CIA and US Special Forces, proves him to be an army trained sniper and more.
It shows he became a "Muslim" only days before becoming a killer, had unlimited funds and his helper, "Boyd Malvo" was walked out of an immigration detention center to be his assistant instead of being deported.
Williams, his real name, had a wife on Attorney General John Ashcroft's staff, spent money like water, ski trips, in and out of the Caribbean, all trips booked by his travel agent while staying in homeless shelters.
See the entire tape, all 16 minutes.  One section shows him being given what I know to be a hypnotic suggestion to surrender, something also so obvious no one but a moron would miss it, and it is here for everyone to see.
What was the fastest execution in American history was the killing of a government "hit man" operating under psychological programming. 
I am also certain he was very real US Special Forces trained, not saying that for amusement sake, had been "disappeared" from records as have more than a few of my contracting friends who operate with nuclear facility clearances or ties to "Delta."
Do remember all the anthrax attacks.  Though not publicized, the CIA was attacked also.  The anthrax was, as most suspect, made by the US government, weaponized, and no one has been arrested.
Several associates were attacked, people with unusual ties to highly classified operational intelligence but also respected members of the DC community.
Some attacked were clearly otherwise.
I will add two videos for context.  The first one is categorical proof that 9/11 was an inside job.  Using the old "OJ trial" adage, "If it doesn't fit, you must  acquit," the following video proves 9/11 was an inside job.
We have the police tape of the arrest of two bombers captured on 9/11, all live for you to hear but those involved, the bombers, the dispatcher, the police officers, the forensic evidence, even the forensic team and, no wait, it gets better, the 188 eye witnesses have all "disappeared."
[youtube cNGPFVOYmhg]
Imagine the threats.
Dan Rather, on this video quite clearly, says "this isn't me."  Does Rather have an evil twin somewhere?
There is no record that the news videos, nationally broadcast  by CNN and CBS had ever existed but you can see them here.  All records were destroyed but loyal Americans at local affiliates were there to help.  We thank them.
Do we laugh over so many deaths?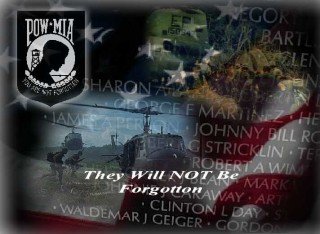 I, at one time, with close friends, investigated the missing POWs from Vietnam.
When presenting evidence of up to 200 POWs who were alive after 1980, I was simply "frozen out" while one of my friends was shipped to Europe to take over a top Army intelligence command.  We talk about this about once a month.
Any more and we would, old as we are, be unable to control ourselves.
"Men in Black" is a joke in comparison to things the US does every day.  I have had two good friends jailed, both diplomats for the US.
One was "anthraxed," a former Chief of Staff for the Central Intelligence Agency, and anther friend jailed on bizarre charges whose last employment was Chief Legal Council for the Central Intelligence Agency.
Another associate is in hiding, a former member of the National Security Council, assistant to Paul Wolfowitz and Condi Rice and briefer of President Bush (43).  Hiding from the US government.
I can add more to this list, mysterious deaths, silencings, disappearances, arrests, convictions, and in most cases, these were people with direct access to the President.
Then again, one of these people is in hiding because they were wearing an FBI wire when the Presidents Chief Advisor on Counter-Terrorism turned over national secrets to a foreign spy while being witnessed by, among others, the Secretary of State of the United States.
The FBI agents involved tried for months to get this and the Rosen (a complex issue on its own)  case prosecuted but those involved in the spying were under the personal protection of someone above the president.
I spent some period of time leading a team that did analyses of potential high level risk areas, many areas of the Middle East, some others.
This involved signals intercepts, satellite imagery, human intelligence, even "getting the feel on the ground" when possible.
A bit ago, I had learned what we call "hyper-spatial analysis" and of late have worked with a top expert at an "agency" that does analysis of imagery.
For fun, they look at things and take them apart, seeing what is real and how clever some can be in fooling others.
Think about it, do governments have a major national security interest in being able to determine what is real video and what has been faked? How long would you image we have had this capacity for? How about decades?
This, in the imagery below, actually "illegal as hell" highly classified stuff that can never be legally on the internet is real proof of a UFO or, more correctly, a vehicle capable of something one might minimally call "interplanetary travel."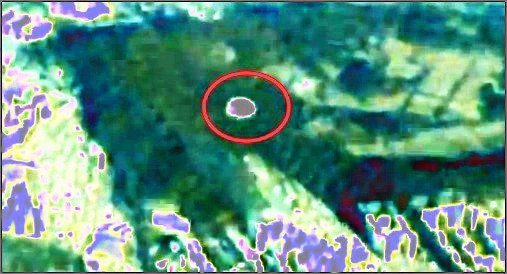 The rest of the images, that when turned over to a university to examine, which none can legally touch, prove things we don't even want to talk about.  They are here, in good resolution with full resolution available to qualified institutions.
If you haven't read the piece attached, you should.
OK, here's the kicker, when I submitted a video of a plane hitting one of the 9/11 towers even I got "Men in Blacked" as we call it.  This is what I was told:
Let's say we were to spend the $250,000 dollars you ask.  What if we were to tell you that iconic film images can be proven to be "something else."  What if we were to say the images, under "national security level analysis" prove, categorically that certain planes had
No mass
Were not made of metal
Had no surface temperature
Did not exist 'contemperaneously' with their surroundings
Had no speed, more simply put, appeared to move but, in fact showed no evidence of movement, something we are capable of detecting down to the level of a walk.
I tried.  Take the answer, be it "double-talk" as you will.  I cannot and will not expand on it nor answer questions.
Then my friend and associate sent me to Youtube.  "Something has caught our eye.   We found a video that could not be "created" using any technology we forsee having available at the xxx for the next ten years."
I asked the plans.
"Oh, that!  UFOs are like a game in some ways, we can take a look at this and let you know but, all I can tell you is that, initially, we are accepting this as a genuine UFO.  However, let me add, we are also accepting it as a vehicle of American manufacture."
[youtube H5l5QZiaAU4]
I will wait for more evidence but enjoy the video, you are paying considerable taxes to others who are doing the same.
CONCLUSION
One might ask why things are put together. I call something like this a "mosaic of deceit."  It describes, for Americans, our lives.
We all have learned our political system is hopeless.  For the last "hold outs" Ron Paul being pushed aside by "joke candidate" Mitt Romney is the lesson.
For the older among us, the Kennedy murders, government hits, pure, simple easy to prove when they happened were the lesson.
Who didn't watch 9/11 and say, "Aren't we supposed to have NORAD send fighter planes?"
We all knew, it is just so many can't take that sick feeling anymore that we are all getting, helplessness.
We all, at heart, know.
For me the thing I am haunted by is the POWs abandoned and what John McCain did to make sure we would never recover them though we had mountains of hard evidence and the easy capability to retrieve them. 
My closest co-worker headed that program for one of our intelligence agencies.  I can bring him on and have him talk, black screen of course, of the endless reliable sightings, the signals intercepts and the efforts Washington went to to make sure our POWs from Vietnam died in misery.
I will never forget or forgive.  John McCain was the single force that worked publicly and secretly with North Vietnam to keep POWs held until they could be disposed of.  Look into it.  Imagine why.
POST SCRIPT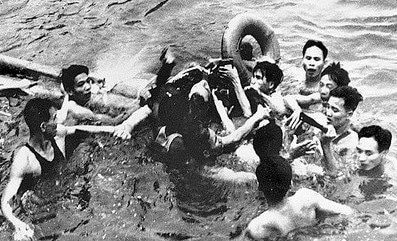 For interest and in order to be genuinely informative, I include what "non" or "semi-operational" intelligence I can that will not endanger any American.
To that extent, I have no idea who I am actually speaking for, at what level but I suspect.  We often publish "bits" that President Obama could never be allowed to see or that Mitt Romney could never have explained to him, no matter how many boxes of crayons or how short the words were.
What we ask together is simple.  Is it too late?  Do we have a chance?  Nobody asks "How bad is it?"  I think we either know or are even afraid to suspect.
Too many of us were willing to die for our countries.  Instead, we were duped.  All of us would die for our children, pretty much, if only the simple act of us dying, giving our lives, would save them.
We fear it is beyond that.
Editing:  Jim W. Dean
Gordon Duff posted articles on VT from 2008 to 2022. He is a Marine combat veteran of the Vietnam War. A disabled veteran, he worked on veterans and POW issues for decades.
Gordon is an accredited diplomat and is generally accepted as one of the top global intelligence specialists. He manages the world's largest private intelligence organization and regularly consults with governments challenged by security issues.
Duff has traveled extensively, is published around the world, and is a regular guest on TV and radio in more than "several" countries. He is also a trained chef, wine enthusiast, avid motorcyclist, and gunsmith specializing in historical weapons and restoration. Business experience and interests are in energy and defense technology.
ATTENTION READERS
We See The World From All Sides and Want YOU To Be Fully Informed
In fact, intentional disinformation is a disgraceful scourge in media today. So to assuage any possible errant incorrect information posted herein, we strongly encourage you to seek corroboration from other non-VT sources before forming educated opinion. In addition, to get a clear comprehension of VT's independent non-censored media, please read our
Policies and Disclosures
.
Due to the nature of uncensored content posted by VT's fully independent international writers, VT cannot guarantee absolute validity. All content is owned by the author exclusively. Expressed opinions are NOT necessarily the views of VT, other authors, affiliates, advertisers, sponsors, partners, or technicians. Some content may be satirical in nature. All images are the full responsibility of the article author and NOT VT.
About VT
-
Comment Policy