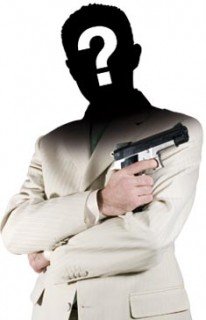 When Hannity launched my career as America's most notorious "radical Muslim conspiracy theorist," I never expected it would lead to this.
But it did. Here I am at VT, hanging around with a bunch of semi-retired spooks.
Ever since that fateful day back in 1973 when I saw Mark Lane show the Zapruder film, I have had a very low opinion of spooks in general and the CIA in particular. A few years later, when William Colby released the MK-ULTRA files (and then died in a "boating accident") my worst suspicions were confirmed. The CIA was out of control, and not in a good way. These people were freaks, psychopaths, heartless power-addicted assholes. Anybody who'd work in an agency or "intelligence community" that kept its house that dirty had to be corrupt, crazy, or worse.
9/11 seemed to confirm that judgment in spades.
But then a funny thing happened on my way to blow up CIA headquarters. As I learned more about spooks and covert ops, I discovered that it wasn't one big evil monolithic conspiracy. There were lots of different factions, all kinds of spy vs. spy games going on, many shades of gray. And – amazingly enough – there were a fair number of "patriots": spooks who were reasonably decent people, took their oath to the Constitution seriously, and counted as potential allies in the struggle for 9/11 truth and justice.
There weren't nearly enough of them. But at least such people existed.
Christopher Ketcham's Salon.com article on Israel and 9/11, first published in (I believe) 2003-2004 or thereabouts, quoted a high-level CIA official as saying that a lot of people in the US intel community had "taken enormous risks" to get the truth out, but that there were limits to what they could do because "quite frankly they would like to stay alive." Chillingly, the source added: "Patriots are dead." (These quotes, and the original Salon.com article, seem to have been scrubbed from the internet – please feel free to find them and prove me wrong. Here is a more recent version.)
I got to know Col. Bob Bowman, Ph.D., former head of SDI, a former fighter pilot who had helped bomb the hell out of the Vietnamese. Dr. Bob still hangs out with high level military/intel types, and has to tiptoe around "classified" material in conversations. He turned out to be one of the most principled, courageous, patriotic men I've ever known.
I've had a bunch of ex-spooks on my radical Muslim conspiracy theorist radio show – people like Philip Giraldi and Susan Lindauer and Glenn Carle Glenn Carle – and discovered them to be admirable human beings. Even Carle, who's still such a naive little boy scout that he believes the official version of 9/11, is a decent person and a smart guy overall despite his blind spots.
Along the way, I have been extensively briefed by Dr. Michael Andregg, a Peace Studies professor at the University of Minnesota, who has devoted much of his career to studying the intelligence community. (Watch Dr. Andregg's video on Israel and 9/11.) He explained to me that most spooks are like Carle (and other Americans who work for official institutions): They've been brainwashed just like everyone else.
I still find it hard to imagine what it must be like to be a spook. Glenn Carle's vivid descriptions of how, in the midst of family crises, he couldn't tell his wife where he was going or what he was doing are heart-rending. (Especially since what he was doing was being forced by the CIA leadership to help keep an obviously innocent man locked up and periodically tortured for ten years.)
Seriously, spooks, I ask you: How the hell can you possibly NOT tell your wives what you're up to? What kind of pushover women do you guys marry, anyway?
But maybe ALL husbands and wives have issues like that.
Maybe spooks are just like ordinary people, only more so.
Consider the following audio parable.
Dr. Kevin Barrett, a Ph.D. Arabist-Islamologist is one of America's best-known critics of the War on Terror.
He is the host of TRUTH JIHAD RADIO; a hard driving weekly radio show funded by listener donations at Patreon.com and FALSE FLAG WEEKLY NEWS (FFWN); an audio-video show produced by Tony Hall, Allan Reese, and Kevin himself. FFWN is funded through FundRazr.
He also has appeared many times on Fox, CNN, PBS, and other broadcast outlets, and has inspired feature stories and op-eds in the New York Times, the Christian Science Monitor, the Chicago Tribune, and other leading publications.
Dr. Barrett has taught at colleges and universities in San Francisco, Paris, and Wisconsin; where he ran for Congress in 2008. He currently works as a nonprofit organizer, author, and talk radio host.
ATTENTION READERS
We See The World From All Sides and Want YOU To Be Fully Informed
In fact, intentional disinformation is a disgraceful scourge in media today. So to assuage any possible errant incorrect information posted herein, we strongly encourage you to seek corroboration from other non-VT sources before forming an educated opinion.
About VT
-
Policies & Disclosures
-
Comment Policy
Due to the nature of uncensored content posted by VT's fully independent international writers, VT cannot guarantee absolute validity. All content is owned by the author exclusively. Expressed opinions are NOT necessarily the views of VT, other authors, affiliates, advertisers, sponsors, partners, or technicians. Some content may be satirical in nature. All images are the full responsibility of the article author and NOT VT.