In a statement recorded for the False Flag Islamophobia Conference, Islamic scholar and global affairs analyst Shaykh Imran Hosein has predicted an unprecedented wave of false flags on the heels of the recent shootings in Paris and San Bernadino. "I'm anticipating an avalanche of false flags," he asserted, pointing out that the CIA-Mossad group ISIS has created a stable of tens of thousands of potential patsies to be manipulated by Western intelligence agencies.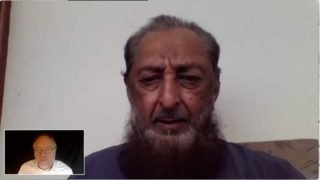 Shaykh Imran said the coming wave of false flags, like the Paris and San Bernadino shootings, will aim at stampeding Western public opinion toward increased involvement in Syria. The ultimate goal, he said, is a Zionist-instigated "malhama," an apocalyptic World War III between the US and Russia.
The coming avalanche of false flags will also help the perpetrators cover their tracks as they "flee forward" into increasing  chaos. As the recent deceptions in Paris and San Bernadino are exposed, public attention will be diverted, and thought-paralyzing fear incited, by new episodes of orchestrated deceptive mayhem.
Such distractions will be necessary in part because the official stories of what happened in Paris and San Bernadino have been pronounced "dead on arrival" by alternative media exposés of countervailing evidence. As of today, two mutually-corroborating witnesses, Sally Abdelmageed and Juan Hernandez, have exposed three white paramilitary mercenaries – not a Muslim couple – as the real killers of San Bernadino. Here is Hernandez's testimony, which corroborates yesterday's report from Abdelmageed:
The San Bernadino attack seems to be one of the most poorly-executed false flag operations in recent memory. My initial article San Bernadino shooting story shot full of holes by patsies' attorney has garnered a quarter-million reads, and my phone is ringing off the hook as international media outlets call to ask why the US mainstream media won't cover the relevant witness statements and other evidence that blows the official cover story to shreds.
Now Steven D. Kelley, a whistleblowing former NSA/CIA contractor, has exposed Craft International, the paramilitary company that bombed the Boston Marathon, as the author of the San Bernadino mass murder.
Like the San Bernadino attaack, both of the big Paris terror attacks this year have been exposed as false flags by dozens of leading academicians, former CIA and military officers and counter-terror analysts, and other experts. Many of the best alternative analyses of the two Paris shootings have been collected in the two book series:
We Are NOT Charlie Hebdo: Free Thinkers Question the French 9/11
and
ANOTHER French False Flag? Free Thinkers Question the 11/13 Paris attacks (forthcoming January 1st, 2016)
Shaykh Imran Hosein's full statement will be presented at the False Flag Islamophobia Conference on December 12th. Other participating experts include professors Tony Hall and James Tracy, former CIA officer Robert David Steele, former US Army Counter-Terror Specialist Scott Bennett, and journalists Catherine Shakdam and Patrick Henningsen as well as yours truly, VT Editor Kevin Barrett.
Conference participant Dr. Scott Bennett, US Army Special Operations Officer (11th Psychological, U.S. Central Command, U.S. Department of State, U.S. Special Operations Command, Booz Allen Hamilton) has responded to the article pinning the San Bernadino shooting on Craft International as follows:
"In the face of this Hydra Government-Secret Intelligence Operations-Homeland Insecurity Police state of slavery peppered with occasional liberties, let us rethink everything: ourselves, our family, our towns, our states, our nation, and our international friends. Where once we may have doubted or been discolored by the lens of suspicion, ignorance, or baseless prejudice, let us re-calibrate our compass of identity. To begin to think on this, let us think as another speaker once pronounced.
"As Churchill may have nodded in agreement with, 'Let us therefore brace ourselves to our duties, and so bear ourselves that, if the American Republic and its Commonwealth last for a thousand years, men will still say, "This was their finest hour."
"Even though large tracts of America and many old and famous States have fallen or may fall into the grip of the Federal Police State and all the odious apparatus of Obama-Neoconservative-Zionist rule, we shall not flag or fail. We shall go on to the end. We shall fight in France, in Germany, in Scandinavia, in Great Britain, in Russia, and wherever free men choose to rise….we shall fight on the seas and oceans, we shall fight with growing confidence and growing strength in the air, we shall defend our island, whatever the cost may be. We shall fight on the beaches, we shall fight on the landing grounds, we shall fight in the fields and in the streets, we shall fight in the hills; we shall never surrender, and if, which I do not for a moment believe, this continent or a large part of it were subjugated and starving, then our Republics of freedom beyond the seas, armed and guarded by the information internet and boldness of heart, would carry on the struggle, until, in God's good time, the Real World, with all its power and might, steps forth to the rescue and the liberation of the old.
"I have nothing to offer but blood, toil, tears and sweat."
I concur.
–Scott Bennett, Ph.D. (U.S. Army, retired)
Dr. Kevin Barrett, a Ph.D. Arabist-Islamologist is one of America's best-known critics of the War on Terror.
He is the host of TRUTH JIHAD RADIO; a hard driving weekly radio show funded by listener donations at Patreon.com and FALSE FLAG WEEKLY NEWS (FFWN); an audio-video show produced by Tony Hall, Allan Reese, and Kevin himself. FFWN is funded through FundRazr.
He also has appeared many times on Fox, CNN, PBS, and other broadcast outlets, and has inspired feature stories and op-eds in the New York Times, the Christian Science Monitor, the Chicago Tribune, and other leading publications.
Dr. Barrett has taught at colleges and universities in San Francisco, Paris, and Wisconsin; where he ran for Congress in 2008. He currently works as a nonprofit organizer, author, and talk radio host.
ATTENTION READERS
We See The World From All Sides and Want YOU To Be Fully Informed
In fact, intentional disinformation is a disgraceful scourge in media today. So to assuage any possible errant incorrect information posted herein, we strongly encourage you to seek corroboration from other non-VT sources before forming educated opinion. In addition, to get a clear comprehension of VT's independent non-censored media, please read our
Policies and Disclosures
.
Due to the nature of uncensored content posted by VT's fully independent international writers, VT cannot guarantee absolute validity. All content is owned by the author exclusively. Expressed opinions are NOT necessarily the views of VT, other authors, affiliates, advertisers, sponsors, partners, or technicians. Some content may be satirical in nature. All images are the full responsibility of the article author and NOT VT.
About VT
-
Comment Policy