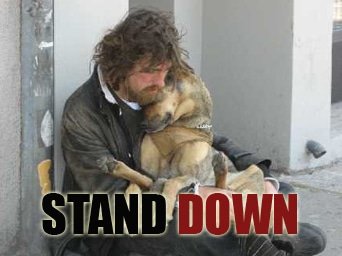 "Homeless Veterans, Operation Stand Down and the Need to Change Direction"
NOTICE:  Personal Opinion of the Columnist. 
Almost 20 years ago I met a combat Vietnam Veteran named Robert Van Keuren and his partner in crime Dr. Jon Nachison both advocates like me doing work for homeless veterans in San Diego.  Van Keuren (Bobby) had called and invited me to come review a program that he and a few others had developed called operation "Stand Down".  The purpose of this program was to provide a weekend a year where homeless veterans could find some help, some positive direction and some free stuff.  
The event I attended in San Diego, one of the first or second ever presented was co-hosted with the VA and over 500 homeless veterans attended.  There was free medical care, free dental care, clothing give aways to include new Nike sneakers and lots of hot food.  There were shower tents set up and at least two hundred volunteers helping with all kinds of things.  I was impressed.
Now, as the years go by, I clearly remember a conversation at the end of that event where I locked horns with the vet I call Bobby.  "Don't you see?  I started.  Don't you see that every volunteer here feels good about themselves for all they are doing, and you put all this energy and effort into this event, and yet, tomorrow, and the day after tommorrow and for a whole friggin year, these homeless vets are going right back to where they were last week?" I was furious.  They don't need a "Stand Down Bobby", they need a "Stand Up"  I screamed.
The conversation with me and Bobby came off the rails at that point and it got very heated.  "You think you know everything?, You know nothing" said Bobby, this program is a success and your trying to make it out as a failure he screamed back at me.
I am not calling it a failure I screamed back,  I am calling it a flawed program, a program that has so many issues I don't know where to begin.  I then laid out for him what I saw as the underlining problems with sponsoring a program for homeless vetearns that lasted just a weekend.
Here were my points:
 Homeless Veterans are going to take advantage of what is being offered for free and actually take doubles or triples of the free things (like Nike sneakers) in the hopes that they can sell something at one of the shelters where they sleep.  You can't blame them I said, hopefully they can maybe make a buck or two.
Twenty-four hours after the event ends, these homeless veterans are right back to where they were before the event.  What have you really changed I screamed?  Anything long term?  You made some homeless veterans feel good for three days?  That the expected outcome?
Where are the permanent housing solutions?  Where are the section 8 certificates? Why isn't there someone here from HUD with "fast track" housing for the seriously ill?
Better than one third of all the homeless veterans I have met and known  are mentally ill.  Where is the program for them?  They are the "Human Lobsters" of our society, picking up cans and pushing shopping carts filled with crap around our downtown inner city  streets.  Where do they fit into stand down?  You just brush them off, stand them up and and let them go another year?  Shame on you and the VA for this injustice.
Many of the Veterans who are participating in this event have been drinking before they came today and will be drinking again tonight, and tomorrow night, and the night after that, where are the detox referrals?
Look at the overall budget of this event (back then, it was close to $50,000 hard cash and I betcha triple that amount of in kind stuff.)  Are you kidding me?  You could do more if you bought some old house and opened it to 10 vets year round.
Now, there will be those readers who think I am way off my rocker, or if I was on some kind of psyche  medication, way off my meds.  But enough is enough.
The VA has funded the Stand Down program long enough, milked it dry and its time they developed and funded an Operation Stand Up.  Get the hell out of the business of feeling good for a weekend and get into the business of doing good long term.  Stop patting each other on the back because HUD has given the VA 10,000 more VASH certificates to distribute.  HUD is stealing these certificates from the Peter pot to pay Paul pot and you all know it.   So, congratulations, most of America doesn't understand that you moved paper from one pile to another anyway, so now, do something serious and meaningful for once.
You really want to end homelessness with Veterans?  Then stand up for the American veteran who needs a job.  That's right, a job.  It doesn't have to be a rocket scientist job, just a good paying, full time job.  That's right, a job.  Work on getting a REAL jobs program and a housing program coordinated between the VA, HUD and DOL-Vets and that will make a difference.  Wait a minute, What?  You can't do that because the Department of Labor doesn't have an Assistant Secretary of Veterans Employment and Training ?   Are you sure?  Let me look.   OMG, What the hell is wrong with that picture?  Who the hell fell asleep on guard duty on that part of the homeless veteran programs perimeter?  Mr President, you need to make JOBS the core issue if you want to make any headway into homelessness amongst veterans long term.   Homelessness begins on your mothers couch and any intervention at that level will offset your current programs a hundred times better than handing out free sneakers, giving teeth cleaning sessions, having a nurse dress minor cuts and a few days of hot meals and showers.  What needs to happen is for the VA to wake up, and that means you Pete Dougherty.   You have been around for 20 plus years working on the issue of homeless veterans and its about time you woke up,  smelt the coffee. and earned your six figure salary.   Stand downs are not using  available resources in a way that is constructive to the long term solution of the problem and you know it.  Stop BS'ing the Secretary with all that your office is supposed to be doing and get a new "Stand Up" program on its feet and switch the funding from stand down to STAND UP.
Now, I have ALL the respect in the world for the Veterans Affairs Secretary Shinski.    Two and half years ago he spoke at a conference with 1300 VA clinicians and health care specialists, representatives of federal agencies invested in providing support for homeless and low-income veterans, and community- and faith-based service providers represented by the National Coalition for Homeless Veterans (NCHV) all assembled to provide input on strategies that would shape the VA's five-year plan.
The General started with : "My name is Shinseki, and I am here to end veteran homelessness,"  Shinseki continued in his opening address. "Many of you have been working the issue of veteran homelessness for a long time – as members of the Interagency Council on Homelessness or the National Coalition for Homeless Veterans or the Advisory Committee on Homeless Veterans.
"I'm the newcomer here today, so let me reiterate that this is not a summit on homeless veterans – it's a summit to end homelessness among veterans. That's our purpose. President Obama and I are personally committed to ending homelessness among veterans within the next five years. I learned long ago that there are never any absolutes in life, and a goal of zero homeless veterans sure sounds like an absolute. But unless we set ambitious targets for ourselves, we would not be giving this our very best efforts. No one who has served this nation as a veteran have should ever be living on the streets."
Amen Mr Secretary
Double Amen to that last sentence sir.  And your right, there are never any absolutes in life.  Well, maybe one.  You take your eye off the homeless veteran ball for a second and your staff will tell you that they are killing themselves on the issue, when in fact, most of the best ideas are coming from the providers in the field, not from your CO.
Here's one from me.  I call it "Stand up"
If I were you, I would host a meeting at my office  inviting Shawn over from  HUD and Hilda over from DOL and Tim from Treasury and I would go into your conference room (the small one), with just the four of you, no staff, and  I would say, look, we all have a piece of this homeless veterans pie and here is an idea.  Tell Gietner to hold on, as I am sure his pants would go on fire, as he would say he has no part in this issue.  Tell him you would explain his part and how he could take credit too.
You could suggest that you will offer your guy Pete Dougherty, Shawn gives up his guy Mark Johnson and Hilda sends over Ismael "Junior" Ortiz from DOL VETS and Tim gives up his guy Dennis Nolan, (from CDFI) all to now be posted  into a new committee that you four have just formed.  Its called the "Stand Up for Homeless Veterans" committee and here is what you expect.
You nominate  "Junior" Ortiz to be the leader.  He's a marine and he will do you all well.   He gets the absolute authority from all four of your offices to contact anyone of you on the phone in the event he runs into problems with staffers or lifers in any federal agency.
You get Gietner to call the five largest bank CEO's and have them set appointments with the large bank real estate owned SVP's, (not the local bankers in  small town USA but the national SVP's of the REO), these are the guys who each have thousands (in some cases tens of thousands) of empty homes right now in their inventory.  These SVP's  are all wetting their pants as the properties deteriorate and they see the banks investments being vanalized.
Junior asks these SVP's of REO's to offer 3,4, or 5 bedroom properties in the worst areas of the country, all located in the inner cities, all with major problems.
This is where HUD and the VA work thier magic.  You see, if the banks  make a sweet heart deal on these properties, not necessarily giving them up for nothing, but allowing them to be repaired and then occupied as they hold the mortgages, then the VA (which has connections to every major Veteran Service Organization), the VA can reach out to the national commanders of the top 10 vet organizations and say "We need your help", and its with the help of the national commanders of these VSO's and the volunteers that they can offer, and maybe even some help from Navy Seabee's if they can get permission, where house after house is reclaimed as a "Veterans Stand Up" house.  VSO's can run fundraisers and the VA starts its own "Extreme Home Makeover".
Now, your telling me in the middle of the worst area's in the inner cities you would offer to build out housing for Homeless Veterans?
Yes, and here's why.  Would you, if you were a homeless veteran, perfer to live in a shelter, or in a house with maybe 5-10 other homeless veterans?  If the requirement to move in was that you needed to be sober and you needed to pull two hours a night, three nights a week of "Fire-watch" duty, to guard the house and the property, would you?.  At the same time, each vet would have 60 days to get a job, and when they did, they then would have to pay 30% of their net income to rent.  Now, would homeless vets do that?  You betcah they would.
So, by placing homeless veterans in crappy inner city neighborhoods as a start, you would help to bring some order to that neighborhood too.  I would think that quickly the house would be tagged as one of those "Veteran Homes" and the local yahoo's out on the street who sell drugs or act crazy would keep a country mile away from anything that was a "Veteran owned and guarded" house in the neighborhood.
So, you see, Mr. Secretary, homeless veterans deserve, and this nation now needs,  a Stand up, and not a Stand Down.
For more than twenty-five years Ken Smith has been a leading advocate for veterans. A combat Vietnam veteran, Ken served during 1971-72 as a paramedic and an infantry squad leader with Delta Company, 2nd Battalion, 1st Infantry, in the 196th Light Infantry Brigade, Americal Division. After his discharge, Ken continued his work as a paramedic in New England. On the streets of Boston he encountered growing numbers of homeless Vietnam veterans, and he became determined to both assist them and draw attention to their plight.
In 1989, Ken founded the New England Shelter for Homeless Veterans, located in a former VA hospital at 17 Court Street in downtown Boston. One of the first facilities designed for homeless veterans and now a national model, the shelter has served over 35,000 of America's veterans who, for whatever reason, find themselves living on the streets.
In 1992 Ken was awarded Point of Light #142 by President George H. W. Bush, and later that same year received the AMVETS Silver Helmet Award, considered the "Oscar" for American veterans. As one of America's foremost veterans service organizations, AMVETS (or American Veterans) has a proud history of assisting veterans and sponsoring numerous programs that serve our country and its citizens. Ken was awarded this honor along with Peter Coors, with whom he still maintains a personal friendship.
Over the years Ken has appeared on many national media programs including Good Morning America, Prime Time Live, ABC News, CBS News, Larry King Live, CNN, 60 Minutes, and The Geraldo Show. He has been quoted in The New York Times, The Washington Post, The Boston Globe, The Los Angeles Times, The Chicago Tribune, The Miami Herald, and numerous international newspapers, magazines, and websites. In 1992, Ken had the distinction of addressing both the Republican and Democratic National Conventions as a keynote speaker on the subject of veterans.
Ken recently left his last assignment with the Military Order of the Purple Heart Service Foundation, where he was the chief technology architect of the Veteran's Vocational Technical Institute, Purple Heart Car Donation program, Purple Heart Call Center, Purple Heart Radio, Purple Heart Tech Support, Purple Heart Services, and over thirty new Purple Heart websites. Ken Smith provided the vision and has overseen the implementation of innovative, virtual, work-at-home training programs for veterans with combat disabilities. Ken has designed, upgraded, and supervised the integration and installation of Purple Heart Service Foundations computer and telephony systems, upgrading features from legacy POTS phones to SIP-trunked communications systems including establishing new VPN networks for teams of remote virtual employees.
An adventure sports enthusiast, Ken enjoys extreme skiing, competitive sailing, flying, and travel. He has traveled extensively worldwide, delivering his positive message to the veterans of other countries that a paraplegic veteran of the United States suffers the same as a paraplegic veteran of India; that an amputee veteran of Nepal suffers as much as an amputee veteran of France. Ken's mentor was Harold Russell, the two-time Academy Award winner who starred in the 1946 film Best Years of Our Lives. A World War II veteran, on D-Day, June 6th, 1944, Harold lost both of his hands. This ghastly misfortune did not stop him, and he went on to become the chairman of the President's Committee for People with Disabilities. For over fifty years he served US presidents from Truman to Clinton. Ken was humbled and grateful when Harold agreed to serve as the best man at Ken's wedding.
Ken has been instrumental in the planning stages for the Veterans Workshop, a new nationwide veterans' advocacy group building a new "Veterans Hotline, and the development of special programs for those who have lost their sight or their hearing, or who have suffered spinal cord injury, as a result of their military experience. The Veterans Workshop provides a forum where new technology and advancements in the fields of prosthetic and orthotic solutions, many designed by Ken, are shared along with virtual training and employment programs.
A 1970 graduate of De La Salle Academy in Newport, Rhode Island, for the past twenty-five years Ken has continued his education with extensive college courses in computer technology and related social service fields. He resides in his native state of Rhode Island with his wife and children.
ATTENTION READERS
We See The World From All Sides and Want YOU To Be Fully Informed
In fact, intentional disinformation is a disgraceful scourge in media today. So to assuage any possible errant incorrect information posted herein, we strongly encourage you to seek corroboration from other non-VT sources before forming educated opinion. In addition, to get a clear comprehension of VT's independent non-censored media, please read our
Policies and Disclosures
.
Due to the nature of uncensored content posted by VT's fully independent international writers, VT cannot guarantee absolute validity. All content is owned by the author exclusively. Expressed opinions are NOT necessarily the views of VT, other authors, affiliates, advertisers, sponsors, partners, or technicians. Some content may be satirical in nature. All images are the full responsibility of the article author and NOT VT.
About VT
-
Comment Policy