Romney Privately Makes Good on the Milk Goof in a Classy Way
Once upon a time, I ran the largest shelter for Homeless Veterans in the USA, located in Boston Massachusetts.  Here is a story about Mitt Romney and Ted Kennedy that I remember with a smile:
Mitt Romney ran as the Republican candidate in the 1994 U.S. Senate election in Massachusetts, losing to incumbent Ted Kennedy.
I know a little bit about that race, as at the time, I was the executive director of the homeless veterans shelter in downtown Boston.  
I invited both Kennedy and Romney to the shelter and since both were based out of Boston, it got onto both of their busy schedules to come and take a tour of our facility and have a talk with the hundreds of homeless veterans who lived at the shelter.
Kennedy's visit was brief as I remember, he came and spent maybe 25 minutes, looked around at our progress and seemed impressed with what we had done with the old VA hospital.
He congratulated us on our programs and promised if he was elected to the senate for another term, he would befriend the shelter and that's exactly what he did.
Mitt Romney came in a few days later and spent close to an hour absorbing everything we showed him about how our program worked.
We explained that our operation was more like a "boot camp" for homeless veterans and there were rules and expectations and each vet was expected to "get tough and get out" as that was our motto.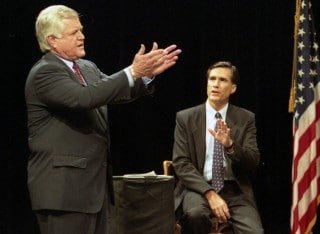 When either of these candidates came for their visit, they brought with them a ton of media.
TV crews, print reporters and assorted staff added to all the confusion of trying to show the candidate's what the homeless veterans shelter was trying to accomplish.
It was a three ring circus, similar to what you are seeing on TV now as the candidates visit coffee shops and schools giving speeches in New Hampshire and South Carolina.
At the end of Romney's visit, as he was preparing to leave out the front door, he pulled me aside and asked me what was the biggest problem that I was facing at the time?
Milk, I said.
Milk?  What do you mean Milk?  he stated
I explained that the state of Massachusetts was giving me $2.37 per vet, per day for meals.  That funding included both dinner and breakfast expenses and since you couldn't go to McDonalds for that amount of money, one of the biggest expenses I encountered, was giving each vet a pint of milk at dinner and again at breakfast.
Now, what I didn't know at the time, was that Romney has a funny bone.
His response to me was "Well Ken, maybe you can teach the vets to milk cows".
I think my jaw was on the floor as he headed out the door and one reporter came over to me and asked what he said.
Did he just tell you to have homeless vets milk cows?  asked the young guy
Yes, he did.
That remark about milking cows spiraled way out of proportion to the comment and as a result Romney got killed in the media for saying it.  It was his "Fire them from their jobs" comment now.
The next day, the newspapers ran with the story and immediately the Romeny camp called me and was pissed.
"He didn't mean that homeless vets should actually Milk Cows", you know that, said the guy calling me .  Actually the guy was almost screaming it at me.
An hour later, Romney actually called me himself.
"Ken he said, its unfortunate that the discussion about your problem with milk became all blown out of proportion, and I hold myself responsible for that".
He then went on to say that I should be getting a call from my milk supplier and he again proceeded to tell me how impressed he was with the concept of veterans working their way out of homelessness instead of being warehoused.
He was impressed with what we had built and he said so.
The following week, the milk supplier called and told me that there was an anonymous donor who was going to pay for half the milk bill.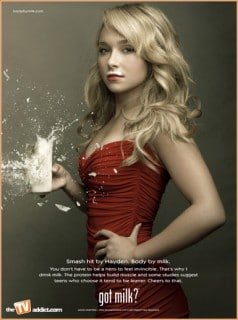 For the next couple of years, not weeks, and not months, but for the next couple of YEARS, the bill I got from the milk supplier versus the amount of milk we were consuming was cut in half.
Years later, I found out that the anonymous donor was Romney.
Out of his own pocket he did this.
No press releases, no media attention, no "Look at what I am doing for homeless veterans" just him doing something that was good, and his generosity helped thousands of veterans who were homeless with nourishment everyday.
As I watch the republicans fight it out to see who will be the next presidential candidate, I know in my heart, that if Romney is elected, he will be extra special careful with the military and with veterans.
I know this because I have seen it first hand.
Now, I am not endorsing anyone, but thought you might want to know something special about one of the candidates.
Editing, and Spilled Milk Remover:  Jim W. Dean
For more than twenty-five years Ken Smith has been a leading advocate for veterans. A combat Vietnam veteran, Ken served during 1971-72 as a paramedic and an infantry squad leader with Delta Company, 2nd Battalion, 1st Infantry, in the 196th Light Infantry Brigade, Americal Division. After his discharge, Ken continued his work as a paramedic in New England. On the streets of Boston he encountered growing numbers of homeless Vietnam veterans, and he became determined to both assist them and draw attention to their plight.
In 1989, Ken founded the New England Shelter for Homeless Veterans, located in a former VA hospital at 17 Court Street in downtown Boston. One of the first facilities designed for homeless veterans and now a national model, the shelter has served over 35,000 of America's veterans who, for whatever reason, find themselves living on the streets.
In 1992 Ken was awarded Point of Light #142 by President George H. W. Bush, and later that same year received the AMVETS Silver Helmet Award, considered the "Oscar" for American veterans. As one of America's foremost veterans service organizations, AMVETS (or American Veterans) has a proud history of assisting veterans and sponsoring numerous programs that serve our country and its citizens. Ken was awarded this honor along with Peter Coors, with whom he still maintains a personal friendship.
Over the years Ken has appeared on many national media programs including Good Morning America, Prime Time Live, ABC News, CBS News, Larry King Live, CNN, 60 Minutes, and The Geraldo Show. He has been quoted in The New York Times, The Washington Post, The Boston Globe, The Los Angeles Times, The Chicago Tribune, The Miami Herald, and numerous international newspapers, magazines, and websites. In 1992, Ken had the distinction of addressing both the Republican and Democratic National Conventions as a keynote speaker on the subject of veterans.
Ken recently left his last assignment with the Military Order of the Purple Heart Service Foundation, where he was the chief technology architect of the Veteran's Vocational Technical Institute, Purple Heart Car Donation program, Purple Heart Call Center, Purple Heart Radio, Purple Heart Tech Support, Purple Heart Services, and over thirty new Purple Heart websites. Ken Smith provided the vision and has overseen the implementation of innovative, virtual, work-at-home training programs for veterans with combat disabilities. Ken has designed, upgraded, and supervised the integration and installation of Purple Heart Service Foundations computer and telephony systems, upgrading features from legacy POTS phones to SIP-trunked communications systems including establishing new VPN networks for teams of remote virtual employees.
An adventure sports enthusiast, Ken enjoys extreme skiing, competitive sailing, flying, and travel. He has traveled extensively worldwide, delivering his positive message to the veterans of other countries that a paraplegic veteran of the United States suffers the same as a paraplegic veteran of India; that an amputee veteran of Nepal suffers as much as an amputee veteran of France. Ken's mentor was Harold Russell, the two-time Academy Award winner who starred in the 1946 film Best Years of Our Lives. A World War II veteran, on D-Day, June 6th, 1944, Harold lost both of his hands. This ghastly misfortune did not stop him, and he went on to become the chairman of the President's Committee for People with Disabilities. For over fifty years he served US presidents from Truman to Clinton. Ken was humbled and grateful when Harold agreed to serve as the best man at Ken's wedding.
Ken has been instrumental in the planning stages for the Veterans Workshop, a new nationwide veterans' advocacy group building a new "Veterans Hotline, and the development of special programs for those who have lost their sight or their hearing, or who have suffered spinal cord injury, as a result of their military experience. The Veterans Workshop provides a forum where new technology and advancements in the fields of prosthetic and orthotic solutions, many designed by Ken, are shared along with virtual training and employment programs.
A 1970 graduate of De La Salle Academy in Newport, Rhode Island, for the past twenty-five years Ken has continued his education with extensive college courses in computer technology and related social service fields. He resides in his native state of Rhode Island with his wife and children.
ATTENTION READERS
Due to the nature of independent content, VT cannot guarantee content validity.
We ask you to
Read Our Content Policy
so a clear comprehension of VT's independent non-censored media is understood and given its proper place in the world of news, opinion and media.
All content is owned by author exclusively. Expressed opinions are NOT necessarily the views of VT, other authors, affiliates, advertisers, sponsors, partners or technicians. Some content may be satirical in nature. All images within are full responsibility of author and NOT VT.
About VT
-
Read Full Policy Notice
-
Comment Policy