Romney Privately Makes Good on the Milk Goof in a Classy Way
Once upon a time, I ran the largest shelter for Homeless Veterans in the USA, located in Boston Massachusetts.  Here is a story about Mitt Romney and Ted Kennedy that I remember with a smile:
Mitt Romney ran as the Republican candidate in the 1994 U.S. Senate election in Massachusetts, losing to incumbent Ted Kennedy.
I know a little bit about that race, as at the time, I was the executive director of the homeless veterans shelter in downtown Boston.  
I invited both Kennedy and Romney to the shelter and since both were based out of Boston, it got onto both of their busy schedules to come and take a tour of our facility and have a talk with the hundreds of homeless veterans who lived at the shelter.
Kennedy's visit was brief as I remember, he came and spent maybe 25 minutes, looked around at our progress and seemed impressed with what we had done with the old VA hospital.
He congratulated us on our programs and promised if he was elected to the senate for another term, he would befriend the shelter and that's exactly what he did.
Mitt Romney came in a few days later and spent close to an hour absorbing everything we showed him about how our program worked.
We explained that our operation was more like a "boot camp" for homeless veterans and there were rules and expectations and each vet was expected to "get tough and get out" as that was our motto.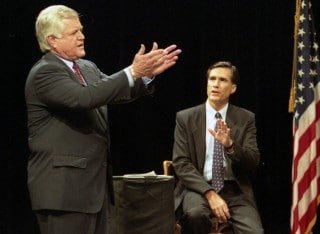 When either of these candidates came for their visit, they brought with them a ton of media.
TV crews, print reporters and assorted staff added to all the confusion of trying to show the candidate's what the homeless veterans shelter was trying to accomplish.
It was a three ring circus, similar to what you are seeing on TV now as the candidates visit coffee shops and schools giving speeches in New Hampshire and South Carolina.
At the end of Romney's visit, as he was preparing to leave out the front door, he pulled me aside and asked me what was the biggest problem that I was facing at the time?
Milk, I said.
Milk?  What do you mean Milk?  he stated
I explained that the state of Massachusetts was giving me $2.37 per vet, per day for meals.  That funding included both dinner and breakfast expenses and since you couldn't go to McDonalds for that amount of money, one of the biggest expenses I encountered, was giving each vet a pint of milk at dinner and again at breakfast.
Now, what I didn't know at the time, was that Romney has a funny bone.
His response to me was "Well Ken, maybe you can teach the vets to milk cows".
I think my jaw was on the floor as he headed out the door and one reporter came over to me and asked what he said.
Did he just tell you to have homeless vets milk cows?  asked the young guy
Yes, he did.
That remark about milking cows spiraled way out of proportion to the comment and as a result Romney got killed in the media for saying it.  It was his "Fire them from their jobs" comment now.
The next day, the newspapers ran with the story and immediately the Romeny camp called me and was pissed.
"He didn't mean that homeless vets should actually Milk Cows", you know that, said the guy calling me .  Actually the guy was almost screaming it at me.
An hour later, Romney actually called me himself.
"Ken he said, its unfortunate that the discussion about your problem with milk became all blown out of proportion, and I hold myself responsible for that".
He then went on to say that I should be getting a call from my milk supplier and he again proceeded to tell me how impressed he was with the concept of veterans working their way out of homelessness instead of being warehoused.
He was impressed with what we had built and he said so.
The following week, the milk supplier called and told me that there was an anonymous donor who was going to pay for half the milk bill.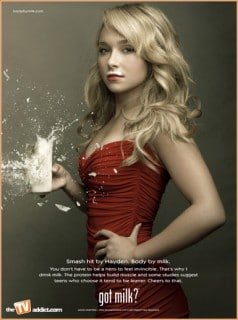 For the next couple of years, not weeks, and not months, but for the next couple of YEARS, the bill I got from the milk supplier versus the amount of milk we were consuming was cut in half.
Years later, I found out that the anonymous donor was Romney.
Out of his own pocket he did this.
No press releases, no media attention, no "Look at what I am doing for homeless veterans" just him doing something that was good, and his generosity helped thousands of veterans who were homeless with nourishment everyday.
As I watch the republicans fight it out to see who will be the next presidential candidate, I know in my heart, that if Romney is elected, he will be extra special careful with the military and with veterans.
I know this because I have seen it first hand.
Now, I am not endorsing anyone, but thought you might want to know something special about one of the candidates.
Editing, and Spilled Milk Remover:  Jim W. Dean
ATTENTION READERS
Due to the nature of independent content, VT cannot guarantee content validity.
We ask you to
Read Our Content Policy
so a clear comprehension of VT's independent non-censored media is understood and given its proper place in the world of news, opinion and media.
All content is owned by author exclusively. Expressed opinions are NOT necessarily the views of VT, other authors, affiliates, advertisers, sponsors, partners or technicians. Some content may be satirical in nature. All images within are full responsibility of author and NOT VT.
About VT
-
Read Full Policy Notice
-
Comment Policy