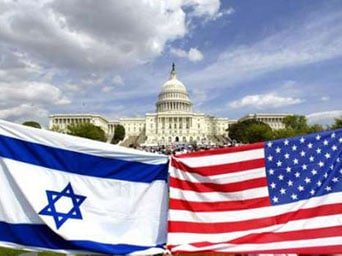 The bumper sticker reads, "I love my country…but I think we should start seeing other people" and recent events lead me to believe it could actually be happening in regards to the "special relationship" between US and Israel.
The American-Israeli massive missile drill codenamed "Austere Challenge 12," that was to deploy thousands of US troops and missile defense systems to Israel this spring and Israeli forces to the US European Command in Germany [US-Israeli Spring Will Bring Deployment of Thousands of US Soldiers  ] was postponed on Friday the 13th most likely rooted in righteous concerns that those war games would escalate tensions with Iran.
However,  The Jerusalem Post reported that Defense Minister Ehud Barak led talks with the Pentagon about rescheduling the drill and that US Capt. John Ross, spokesman for the US European Command/EUCOM said, "It is not unusual for such exercises to be postponed, and leaders of both sides believe that the best participation of all units will be best achieved later in the year." [1]
This mornings news reported by London's The Sunday Times reminded this reporter of the idiom, "With friends like that, who needs enemies" as I read verification that it was Mossad agents that were behind last week's assassination of another Iranian nuclear scientist.
According to The Sunday Times, the assassination of Mostafa Ahmadi-Roshan was similar to that seen in "espionage films" and planned over a period of many months with extensive surveillance.
It also quoted an unnamed Israeli sources claiming that the killing was a precursor to a military strike, which would make rebuilding nuclear facilities more difficult for Iran, should they be bombed. [2]
The Israeli source said, "There is zero tolerance for mistakes. By nature, every failure not only risks the neck of the agents but also risks turning into an international scandal."
Another Friday the 13th, report by Foreign Policy exposed a a series of memos, written during the last years of President George W. Bush's administration.
The memos describe how Israeli Mossad officers recruited operatives belonging to the terrorist group Jundallah by passing themselves off as American agents.
According to two U.S. intelligence officials, the Israelis, flush with American dollars and toting U.S. passports, posed as CIA officers in recruiting Jundallah operatives — what is commonly referred to as a 'false flag' operation.
The memos show that the United States had barred even the most incidental contact with Jundallah, but the same was not true for Israel's Mossad.
The memos also detail CIA field reports saying that Israel's recruiting activities occurred under the nose of U.S. intelligence officers, most notably in London, the capital of one of Israel's ostensible allies, where Mossad officers posing as CIA operatives met with Jundallah officials.
A US intelligence officer said, "It's amazing what the Israelis thought they could get away with. Their recruitment activities were nearly in the open. They apparently didn't give a damn what we thought." [3]
According to a currently serving U.S. intelligence officer, President Bush "went absolutely ballistic" when briefed on the contents of a report that "sparked White House concerns that Israel's program was putting Americans at risk. There's no question that the U.S. has cooperated with Israel in intelligence-gathering operations against the Iranians, but this was different. No matter what anyone thinks, we're not in the business of assassinating Iranian officials or killing Iranian civilians."
Israel's activities jeopardized the Bush administration's fragile relationship with Pakistan, which was coming under intense pressure from Iran to crack down on Jundallah and undermined U.S. claims that it would never fight terror with terror.
A former intelligence officer said, "It's easy to understand why Bush was so angry. After all, it's hard to engage with a foreign government if they're convinced you're killing their people. Once you start doing that, they feel they can do the same."
That Mossad operation sparked a divisive debate among Bush's national security team, pitting those who wondered "just whose side these guys [in Israel] are on" against those who argued, "the enemy of my enemy is my friend." [Ibid]
Within his first weeks as president, Barack Obama drastically scaled back joint U.S.-Israel intelligence programs targeting Iran, according to multiple serving and retired officers.
In November 2010 the State Department added Jundallah to its list of foreign terrorist organizations.
According to a currently serving officer, U.S. intelligence services have received clearance to cooperate with Israel on a number of classified intelligence-gathering operations focused on Iran's nuclear program which are technical in nature and not about covert actions targeting Iran's infrastructure or political or military leadership.
A recently retired intelligence officer said, "We don't do bang and boom. And we don't do political assassinations."
According to retired and current intelligence officers, Israel regularly proposes conducting covert operations targeting Iranians, "They come into the room and spread out their plans, and we just shake our heads and we say to them — 'Don't even go there. The answer is no.'"
Many but not all of the details of Israel's involvement with Jundallah are now known and anger among senior intelligence officials about Israel's actions has become more outspoken, "This was stupid and dangerous. Israel is supposed to be working with us, not against us. If they want to shed blood, it would help a lot if it was their blood and not ours. You know, they're supposed to be a strategic asset. Well, guess what? There are a lot of people now, important people, who just don't think that's true." [Ibid]
Among those who would agree is President George Washington, who warned US in his Farewell Address:

"Observe good faith and justice towards all nations; cultivate peace and harmony with all…and passionate attachments for others, should be excluded; and that, in place of them, just and amicable feelings towards all should be cultivated. The nation which indulges towards another a habitual hatred or a habitual fondness is in some degree a slave…a passionate attachment of one nation for another produces a variety of evils."
Another place Israel never should have gone was to use the name, identity and Passport of Cindy, sister-in-law of Cheryl Ben Tov, the American-Israeli Mossad operative who trapped Israel's nuclear whistle blower, Mordechai Vanunu in 1986 in London.
On April 6, 1996, in an investigative report, The St. Petersburg Times, located Cheryl Ben Tov and reported that she continues to work for the Mossad.
It is illegal under American-Israeli diplomatic protocols for the Mossad to operate in America.
In 1986, Hanin was a 26-year-old Mossad agent posing as an American tourist in London. She grew up in Pennsylvania and Orlando in a Jewish family that owed its affluence to tires.
I moved to Orlando in the mid 1970's and still can recall her father, Stanley Hanin, the founder and pitchman for the Allied Discount Tires chain stores, shrill refrain in his self-produced cheesy TV commercials, "Tahrs ain't pretty, but you gotta have them!"
As her parents went through an acrimonious divorce, Hanin embarked upon a long love affair with the Jewish State. In 1977, she spent a semester in Israel, studied Hebrew and Jewish history and threw herself into her academic and religious studies in a three-month residential course funded by the World Zionist Organization.
Upon graduation in 1978, she joined the Israeli army and married Ofer Ben Tov and then was recruited by the Mossad.
In 1986, "She left Israel to flee the media and the people who burrowed into her life," a friend in Florida told the Israeli daily, Yedioth Ahronoth.
"This bothered her a lot. She was terrified. She felt the need to run. Since this affair Cheryl only wants one thing: a normal quiet life." [2]
See Photos of Cheryl and her husband here.
Cindy/Cheryl Hanin Ben Tov has also been living the good life in an exclusive gated community golf course home- purchased in Hanin's name in 1998 at $528,000.00:

See photo here.
When I asked Vanunu what he was thinking when he took off with Cindy, he maintained eye contact and readily replied, "It wasn't like THAT-when Maxwell's paper published my photo without ever talking to me and some of the stolen Dimona photos with a very bad story against me, I knew the Mossad was after me. Cindy said she had a sister in Rome and I thought I would be safe there until I could return to London.
"We went to movies and art galleries, I trusted her. But, as soon as I got into the apartment, I was hit on the head and drugged. When I woke up and they took me for interrogation, they threw the Times article on the table and said, 'Look, what you did.' I was so relieved they had published it and that I had done what I did."
On 5 October 1986, The Sunday Times published the front-page photo story of the Dimona reactor that spread over three pages revealing Israel's arsenal of upwards of 200 nuclear, which was also five days after the Mossad kidnapped Vanunu and to this day he is still waiting for his right to leave Tel Aviv.
In June 2005, after three days of interviews with Vanunu, he blew my mind when he said:
"Did you know that President Kennedy tried to stop Israel from building atomic weapons? In 1963, he forced Prime Minister Ben Guirion to admit the Dimona was not a textile plant, as the sign outside proclaimed, but a nuclear plant. The Prime Minister said, 'The nuclear reactor is only for peace.'

"Kennedy insisted on an open internal inspection. He wrote letters demanding that Ben Guirion open up the Dimona for inspection.

"The French were responsible for the actual building of the Dimona. The Germans gave the money; they were feeling guilty for the Holocaust, and tried to pay their way out. Everything inside was written in French, when I was there, almost twenty years ago. Back then, the Dimona descended seven floors underground.

"In 1955, Perez and Guirion met with the French to agree they would get a nuclear reactor if they fought against Egypt to control the Sinai and Suez Canal. That was the war of 1956. Eisenhower demanded that Israel leave the Sinai, but the reactor plant deal continued on.

"When Johnson became president, he made an agreement with Israel that two senators would come every year to inspect. Before the senators would visit, the Israelis would build a wall to block the underground elevators and stairways. From 1963 to '69, the senators came, but they never knew about the wall that hid the rest of the Dimona from them.

"Nixon stopped the inspections and agreed to ignore the situation. As a result, Israel increased production. In 1986, there were over two hundred bombs. Today, they may have enough plutonium for ten bombs a year."
Among those who have also been warning that the "special relationship" is not in the best interests of Americans are the USS LIBERTY Veterans.
The LIBERTY Vets have been calling for justice since 6 June 1967, when on that day in infamy, the LBJ Administration failed to support the troops and Congress failed to hold Israel accountable for the deaths of thirty four Americans and the spilled blood of 171 who were wounded due to Israel's wanton, unprovoked attack and "deliberate attempt to destroy an American [spy] ship and kill her entire crew. In attacking the USS Liberty, Israel committed acts of murder against U.S. servicemen and an act of war against the United States."– Adm. Thomas Moorer, former Joint Chiefs of Staff on 16 January 16, 2004, for The Stars and Stripes.
This candidate for US House of Representatives also finds it "amazing what the Israelis thought they could get away with" because they don't "give a damn what we" Americans think; and so I go on the WWW Record calling for an end to the "special relationship" with Israel and for a relationship that holds Israel and Iran to the same criteria, for a Nuclear Free Middle East, an end to the Occupation of Palestine and a free Vanunu Mordechai.
Learn More: www.eileenfleming.org
http://www.haaretz.com/news/diplomacy-defense/sunday-times-mossad-agents-behind-iran-scientist-assasination-1.407593
Eileen Fleming founded WeAreWideAwake.org. She produced videos "30 Minutes with Vanunu" and "13 Minutes with Vanunu".  She has authored many books including; A USS Liberty Remembrance of 50 years USA Government Cover-Up of Israel's 8 June 1967 Attack on USA Spy-Ship, Wabi Sabi Body ETERNAL SPIRIT, and Heroes, Muses and the Saga of Mordechai Vanunu. Click here to see her latest books. Visit Eileen's YouTube Channel
ATTENTION READERS
Due to the nature of independent content, VT cannot guarantee content validity.
We ask you to
Read Our Content Policy
so a clear comprehension of VT's independent non-censored media is understood and given its proper place in the world of news, opinion and media.
All content is owned by author exclusively. Expressed opinions are NOT necessarily the views of VT, other authors, affiliates, advertisers, sponsors, partners or technicians. Some content may be satirical in nature. All images within are full responsibility of author and NOT VT.
About VT
-
Read Full Policy Notice
-
Comment Policy