Political Espionage in America, the 'Other' CIA, Orchestration of Pro-Gaddafi Coverage, and  Conspiracy to Subvert the Official American Policy via Secret Negotiations with Indicted War Criminals
I don't hate to say we told you so. Just yesterday we stated to readers once again, those unhappy with the Libyans overthrowing an  ICC  indicted war criminal regime, that we would no longer have to defend our positions via commentary using our words as bullets.
The Libyan people are going to be able to do that with the archival intelligence documents now in their hands. But I must say I had expected to wait a bit longer.
The BBC got a scoop on Al Jazeera by scooping the first Intel inner sanctum story. 
Their video tour of Gaddafi's Homeland Security bunker allowed us to study some key freeze frames to discover the Israelis were running his communications intercept operations…equipment and personnel.
While there was no Israeli graffiti on the walls or Hebrew instruction signs…the English paper trail was right there for those familiar with how these operations work. We were familiar was we have VT people who have been intimately involved in this kind of work. We are not reaching here.
Al Jazeera  has jumped on the stick and supplied us with a tour of Gaddafi's Intel offices, the chief of whom is his brother-in-law. And once again no phosphorus grenades or gasoline bombs were used here to destroy these archives. They were laying right out in the open and now well guarded by the rebels.
[youtube b7IfcxSGJgU]
We spotted NeoCon involvement in supporting Gaddafi early on in the game. With Rudy Guliani's firm as Libya's registered agent it was not surprise to see the usual manipulation tactics and leaked news stories, starting with the Al Qaeda led revolt story.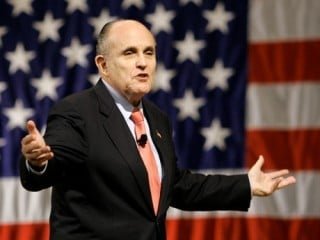 Our sources on the ground debunked that early on. But 'the usual suspects' in America seem to have been lined up and singing in the chorus.
Bringing Gaddafi in from the cold was a mega cash pinata for all the well connected NeoCon contractors, and they milked him like a goat.
How much was a get out of jail care worth to Gaddafi? A lot. And once he and Saif were indicted as war criminals,  under normal circumstances that would have make them pariahs legally, as it is a felony to assist such people once indicted.
But these Libyan Intelligenc documents show that Republican insiders just smelled more opportunity to milk Gaddafi for even more gold and down the road oil concessions.
This was my reference above to the 'other CIA', ex-government officials who team up with mega contractors who in effect run their own foreign policy when they disagree with the administrations. That is what the felony statutes were put there for. But high officials are rarely prosecuted, and they know it.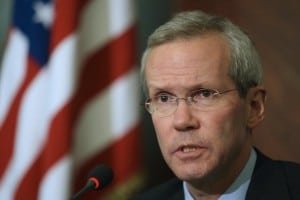 Gordon Duff got the first story on this scandal. David Welch is a wired in Neocon from the Bush-Cheney administration, and doing what those guys generally do when they get out…work for big international contracting companies.
Gordon has written about these Dogs of War shills back in June, and in July. But in the last month we began seeing a ramping up of the organized push back even in our own comment sections, from 'new' readers.
Pattern analysis is counter Intel 101. And with google key word searches as our intercept equioment this can often be sniffed out quickly. Organized media talking points and almost always be traced back to their source, which might even include a national party office.
The captured documents have David Welch requesting material be filtered through foreign intelligence services to launder it before presenting to American officials back home. This is one of the key elements of a felony conspiracy charge, one on which we will be in communication with the Justice Department.
We have not only the players identified, including a sitting Congressman, but slam dunk evidence of working directly with foreign intelligence agencies of indicted war criminals. This is a worse scandal than the Zimmerman letter.
In my book this surely looks like engaging in espionage to me. The reward. Welch works for Bechtel who is an oil facilities contractor and corporate money flows into political campaigns now like a river. 
Congressman Dennis Kucinich was showing his bipartisan support for subverting US declared policy by also advising the war crimes indicted Gaddafi family how he could help them.
I can't but wonder with all the time Cynthia McKinney and her smokescreen gang spent in Tripoli if she was not closely coordinating with Kucinich on all of this.
He may claim innocence and Congressional immunity but if the documents turn out to be legitimate, and additional supporting evidence is found, the American people may feel he deserves something else, and McKinney, also.
Forty thousand detained Libyans are still missing from Gaddafi prisons, and 50,000 are estimated dead by the NTC. Both Kucinich and McKinney might we wearing the shame of aiding and abetting in Crimes Against Humanity themselves. The Libyan people will be their final judges.
"Al Jazeera found a document written by a Libyan bureaucrat to other Libyan bureaucrats," Kucinich said in a statement e-mailed to The Cable. "All it proves is that the Libyans were reading the Washington Post, and read there about my efforts to stop the war. I can't help what the Libyans put in their files…Kucinich chief of staff Vic Edgerton would not confirm or deny that Kucinich did in fact have a conversation with a Qaddafi official."
This is a gross misrepresentation of the documents and Kucinich knows it. His 'not confirming or denying a conversation with a Gaddafi official'…that folks is a strong indication that the lawyers have already advised him that an admitted contact with an enemy foreign intelligence agency with  whom  American forces are in combat could have dire consequnces. It certainly will among the serving troops and veterans.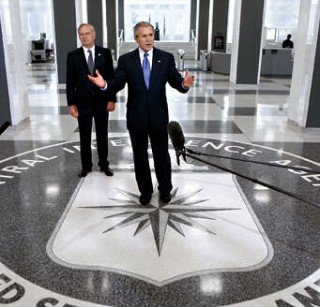 In contemporary political espionage we often find these ex-official people like Welch running what seems to their own private State Department, and even rump Central Intelligence Agencies. 
Big money, big business, and big contacts are always woven in as it takes gaming the system to get away with the goodies. You and I would end up in jail very fast.
If they had such wonderful ideas they could have passed them on to the administration and responsible parties. But they did what they did in the shadows. That is evidence of bad intent and concealment, all A,B,C factors in a criminal conspiracy.
We have many veterans here at VT and among our readers who have been ill used by both our politicians and defense contractors.
Frankly we are tired of it. And it's time to take the gloves off.  We are going to ask Attorney General Holder to review these developing cases of possible espionage for prosecution. We expect more revelations and corroboration after a forensic audit is completed of these documents.
Some of these activities may be border line, criminal, or just plain stupid. Below is Cynthia McKinney's gem of wanting to bring 'Gaddafi style direct democracy' to the America. You just can't make this stuff up.
You can decide for yourselves whether she is a national security threat, or a loon…and if she was on somebody's string. Where did the money come for her very expensive efforts? You need to be sitting down to watch this folks, as it is hard to believe, even for Cynthia.  It's just incredible. The Zimmerman letter from the National Archives follows.
[youtube RDwcJ3Uof3E]
Jim W. Dean is Managing Editor of Veterans Today involved in operations, development, and writing, plus an active schedule of TV and radio interviews.
ATTENTION READERS
Due to the nature of independent content, VT cannot guarantee content validity.
We ask you to
Read Our Content Policy
so a clear comprehension of VT's independent non-censored media is understood and given its proper place in the world of news, opinion and media.
All content is owned by author exclusively. Expressed opinions are NOT necessarily the views of VT, other authors, affiliates, advertisers, sponsors, partners or technicians. Some content may be satirical in nature. All images within are full responsibility of author and NOT VT.
About VT
-
Read Full Policy Notice
-
Comment Policy