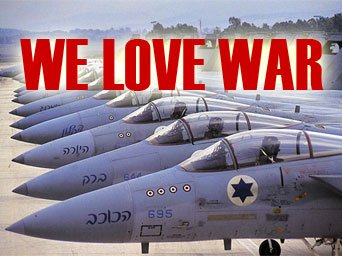 Israel, the country that 60 percent of Europeans considered the world's most dangerous nation in a 2002 poll, is close to starting yet another war, its third in the last five years, this time with Iran.

The Jewish Nation, propped up by apartheid and war crime, cries that worldwide anti-Semitism is rising up against Worldwide Jewry by paying too little attention to Iran and too much attention to Palestine — and it intends to fix things soon. The cacophony of war drums grew loud on Halloween:
Netanyahu: Nuclear Iran threatens Israel

Prime Minister Benjamin Netanyahu warned Monday that a nuclear Iran would be a serious and direct threat to Israel. "A nuclear Iran poses a heavy threat to the entire world – and to Israel in particular," Netanyahu said during the opening of the Knesset's winter session, warning that the regime in Tehran is continuing its efforts to obtain nuclear weapons. — Haaretz, 10/31/11
It grew louder later in the day:
US fears Israeli strike on Iran

Many Israelis are concerned that Prime Minister Benjamin Netanyahu and Defense Minister Ehud Barak decided on an attack on Iran's nuclear reactors. The US is naturally also concerned over such plans which may send the entire region into a whirlwind. — Ynetnews, 10/31/11
It grew louder still yesterday:
Israel warns West: Time to stop Iran

Israeli ambassadors in Western countries have been instructed to inform high-ranking politicians that the window of opportunity for imposing effective sanctions on Iran is closing, as part of a renewed diplomatic offensive aimed at using new sanctions to stop Tehran from developing a nuclear bomb. — Haaretz, 11/1/11
These dangerous developments corroborate my analyses and admonitions, which can be found in my Veterans Today archive. My latest five about Israel/Iran war prospects should be interesting to intelligent readers, and invidious to the Israel Lobby — as all worthwhile analysis should be:
Bunkered Barack Obama Awaits World War

10/25 — There are unsettling current events that make this presidential appearance in Denver seem like another command post exercise ready to go live for a false flag, world war or both.

San Antonio 10-19-11 Terror Plot

10/22 — It's a story that bears chilling similarities to the terror attacks conducted against Oklahoma City and New York City, but the Wednesday morning arrest of five Moroccan terrorist suspects in San Antonio quickly passed from the lurid to the ludicrous in media descriptions.

America Awakens to Denver False Flag Danger

9/27 — Denver, location of the nation's state-of-emergency command apparatus, was the scene of massive terror training Friday. With financial markets crumbling worldwide, Zionists reeling from the push for Palestinian statehood in the UN and an Israeli attack on Iran, as reported by Haaretz, under consideration, a false flag operation may well be in the works, and Obama's placement in Denver may well be the king retreating to his castle before the battle begins.

9/25 — Before I am assailed by the usual screams from the usual suspects, let me point out that the fear of Jewish jihadists starting a world war is not uniquely mine. There was an op-ed by Jewish dissident Sefi Rachlevsky in Haaretz Wednesday that said the same thing: Netanyahu must be stopped from attacking Iran.

BREAKING: Texas City Terror Scare

9/23 — Late last night I received this report from a reliable source inside the mammoth BP refinery in Texas City, Texas: "This morning at 0930, the fire alarms went off at BP, causing an evacuation. Normally BP announces in advance when it is going to have an emergency drill, but in this case employees said that they were surprised. Many said that they were reminded of the unannounced nuclear exercise of 2006, and believe that something is up." Nine hours after the emergency drill there was an emergency.
To summarize my five articles:
Israel needs U.S. backing for a war with Iran, which can be most easily gained by a false flag terror attack against the U.S.
There have been two false flag close calls in the last six weeks, each followed by an Obama retreat to the emergency command citadel of Denver.
The U.S.and Israel are rehearsing a joint false flag and world war plan.
The writing is on the wall, and it's up to the Internet Intelligentsia to do what it does best by investigating it and discussing it, for these are the best means of preventing it.
* For the best and bravest documentary about Israeli false flag terror, watch filmmaker Mike Delaney's 9/11 Missing Links.
ATTENTION READERS
Due to the nature of independent content, VT cannot guarantee content validity.
We ask you to
Read Our Content Policy
so a clear comprehension of VT's independent non-censored media is understood and given its proper place in the world of news, opinion and media.
All content is owned by author exclusively. Expressed opinions are NOT necessarily the views of VT, other authors, affiliates, advertisers, sponsors, partners or technicians. Some content may be satirical in nature. All images within are full responsibility of author and NOT VT.
About VT
-
Read Full Policy Notice
-
Comment Policy