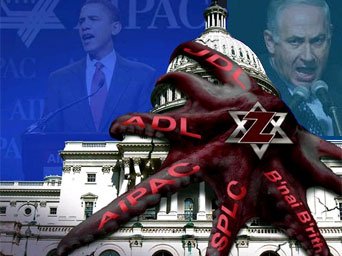 The possibility of a world war soon is obvious to my readers, who have urged me to post this analysis. In the excerpts and bullets below, they will find the exposition of a grim summary:
The Zio-Globalist war to control the Middle East has reached a deadly decision point, at which it must surrender regional initiative to Iran and global initiative to the emerging Sino-Russian alliance; or Zio-Globalism must double its bets in an effort to recover its lost power with an attack on Iran. George Orwell's 1984 geopolitical paradigm of a counterbalancing Oceania, Eurasia and East Asia is coming into focus, and we have no one but ourselves to blame that two-thirds of it is forming ranks against us.
Worried About Quicksand of War in Iraq

"There was a predetermination that started back in the 1990s to go after Saddam Hussein. 9/11 provided the opportunity to mobilize public opinion to do that. There was a window of opportunity, for the United States of maybe 10 or 15 years before China would become too strong, in which we could use our unchallengeable military muscle and clean up the area." — General Wesley Clark, Houston Chronicle, 7/08/03, by Captain May
Vladimir Putin, the Russian president, has recently said that the world is at its most dangerous point since the Cold War. A question frightens me: With all this geopolitical jostling, just how many mistakes are we away from World War Three?, Houston Chronicle, 4/3/03, by Captain May
U.S. Secretary of Defense William S. Cohen

"Others are engaging even in an eco-type of terrorism whereby they can alter the climate, set off earthquakes, volcanoes remotely through the use of electromagnetic waves. So there are plenty of ingenious minds out there that are at work finding ways in which they can wreak terror upon other nations. It's real, and that's the reason why we have to intensify our efforts, and that's why this is so important." — Department of Defense News, April 28, 1997
New York, 9/ll; Madrid, 3/11; Mumbai, 7/ll

The date of the Mumbai attack, the 11th, won't be ignored as investigators try to figure out who was behind today's deadly commuter train attacks in India. The 11th has now been chosen as an attack date in New York, Madrid and Mumbai. Last year's attack in London was on 7/7. "There's a lot of symbolism involved when terrorists choose their targets and the dates of their attacks," said Jack Cloonan, a former FBI agent on the bin Laden squad who now works as an ABC News consultant. — ABC, July 11, 2006
The above story is one of my all-time favorites because it grants the significance of 11-based dates, pretty common knowledge among the Internet Intelligentsia. Look closely at the title, though, to discover that what seem like 11's after New York and Mumbai are actually double L's. It was a cheap trick to bury the limited-hangout story, and it worked well enough. A few hours later Israel invaded Lebanon, and everyone forgot about the date-code of the false flag operation meant to engender more hostility against Muslims before the Jewish Nation's ground offensive against its northern neighbor.
The three days included in this world war watch are extremely dangerous:

11/9/11 is the last day in this century to have a 9/11 from the middle to the left and the middle to the right. Both halves have been used: 9/11/01 for New York, and 11/9/05 for Amman, Jordan. There was an aborted San Antonio false flag terror attack less than a month ago, on 10/19/11 (11911).
11/1/11 is surrounded by more sinister numbers, but it's still plenty wicked, which is why Bush in 2005 chose to give his Avian Flu press conference and funding announcement on 11/1 at 1010 hours (11111). Other famous extended 11 date-coded events include Bush's Global War speech to the United Nations on 11/10/01 (1111), and the Senate approval of The Iraq War Resolution on 10/11 (111) in 2002.
11/11 at 1100 hours (111111) was the date/time-code chosen by the victorious Allied Powers to conclude World War One, of which Friday will be the 93rd anniversary. 93 is a powerful occult number, which is why it was chosen for the "heroic passengers" flight on 9/11.
God willing, the Herculean efforts of innumerable Internet researchers and writers will be a hedge of thorns that will protect us from the perilous prospects of the next three days. If so, then the next period of heightened danger will be 11/20/11 – 11/23/11, about which I hope to write later.
Epilogue: an endorsement that I cherish

"No one I have known has impressed me with a combination of intelligence, resourcefulness and dedication comparable to Captain May. I am convinced that it is only because of his discerning intellect, analytical ability and remarkable capacity for synthesizing diverse data points that this nation has been spared the infliction of more of the malicious and cynical fabricated attacks that are intended to promote the political agenda of a powerful few directing our intelligence agencies and covert operations to promote wars and assassinations at the expense of democracy and of freedom here at home. I salute him for the courage and integrity he has displayed, which goes far beyond the call of duty and lies far beyond the capacity of ordinary men." — Dr. James H. Fetzer, 10/19/11
ATTENTION READERS
Due to the nature of independent content, VT cannot guarantee content validity.
We ask you to
Read Our Content Policy
so a clear comprehension of VT's independent non-censored media is understood and given its proper place in the world of news, opinion and media.
All content is owned by author exclusively. Expressed opinions are NOT necessarily the views of VT, other authors, affiliates, advertisers, sponsors, partners or technicians. Some content may be satirical in nature. All images within are full responsibility of author and NOT VT.
About VT
-
Read Full Policy Notice
-
Comment Policy