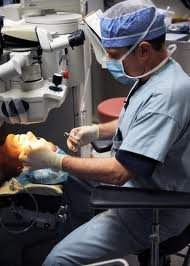 "Former Navy doctor spearheading remote medicine using Google+"
Let me introduce you to Dr. Gary Levin.   Dr. Levin was in the US Navy from 1969 to 1971 serving as a general medical officer.  He was in an amphibious group, and served on the USS Jeneau, LPD 10.
After his tour in the Navy he did  general practice in San Diego for a while and then he went to NY and spent three years at the Albany medical center learning how to be an eye surgeon.  He then headed back to Riverside CA and opened a surgical ophthalmology practice.   He also was a clinical professor of ophthalmology at Loma Linda University for a number of years.  That is what he did everyday for close to 35 years.  He saw it all when it came to advances in eye research and he was a visionary (no pun intended) about the use of remote medicine.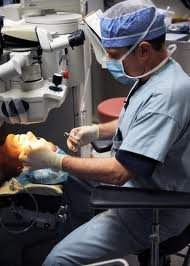 You may be as amazed as I was when I heard through the grapevine that he was giving free medical care to veterans worldwide.  You see, Dr. Levin now spends his days trolling for those in need of an eye doctor's knowledge using his Google+ account.
How does he do that you might ask?
I went in search myself to find out how this former Navy doctor, world renowned eye surgeon and all around good guy is helping veterans around the world in need.
It brought me to a Google+ hangout, actually it's  a virtual video conference center, and in that Google+ hangout, I watched Dr. Levin working with a former Pakistani military member, who was in need of some special kind of corrective lens for an injury sustained in defense of Pakistan.  The lens couldn't or can't be found in Pakistan and as I listened I learned alot as this American Navy veteran went about his magic
Muhammad of Lahore, the Pakistani vet was asking for help, sitting in this Google+ hangout, at 2am his time, waiting his turn to have his FREE appointment with this retired American eye surgeon.
Using the video camera of the Google+ hangout, and doing all the things you would expect an eye doctor would do, he finished the meeting with a promise to Muhammad that he would make it a point that the special lens he was sure would fix the problem got shipped to Pakistan and Dr. Levin did all this like he was just around the corner from this veteran in Pakistan instead of on the other side of the world.
I was amazed.
After speaking to Dr. Levin, I became aware of how many of these acts of humanity he is actually performing.
This was my sixth patient today, and I have another couple to go he said.
Are you practicing medicine over the Internet I asked?
Not really, I am not physically there, there are no drugs I prescribe and mostly I am making informed suggestions.  But in the case of Muhammad, with what he told me about his condition and his injury, I knew exactly the lens type he needed and made a call to a medical supplier friend of mine that made tons of money off me when I was in practice.
Did you tell him you were sending it to Pakistan?
Nope, and he didn't ask.
So, why?  I asked.
Why are you doing this?
Ken, your a vet, and I'm a vet, and to me, well, a vet is a vet is a vet.  I don't care that this vet was from Pakistan, I wouldn't care if he was Baluchistan, or any of those stans,  and if anybody has an issue with me helping another vision disabled veteran, well, that's their problem, not mine.
You know, he's right I thought.  We all should have that attitude.  If we did, then maybe half the crap that American's are lambasted about in foreign capitals worldwide would diminish.
Quietly, without any fanfare, no press releases, this retired Navy doctor is gaining friends for America, one vision disabled  veteran at a time.
Dr. Levin said, better than half of my new Google+ friends (I don't call them patients he said), are veterans here in the US.  I have spoken to veterans in 22 countries and mostly its the same kind of service.  They need some corrective lens or some device that will assist them in their condition.  Since I know all about that, well, I feel this is how I can still serve my country.
Congrats to you Dr. Levin.  You are making all the rest of us proud to be American.
ATTENTION READERS
Due to the nature of independent content, VT cannot guarantee content validity.
We ask you to
Read Our Content Policy
so a clear comprehension of VT's independent non-censored media is understood and given its proper place in the world of news, opinion and media.
All content is owned by author exclusively. Expressed opinions are NOT necessarily the views of VT, other authors, affiliates, advertisers, sponsors, partners or technicians. Some content may be satirical in nature. All images within are full responsibility of author and NOT VT.
About VT
-
Read Full Policy Notice
-
Comment Policy