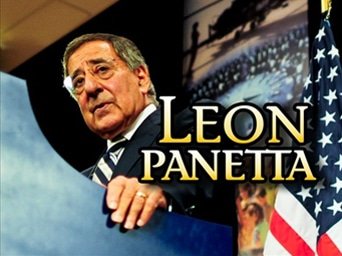 "Former CIA Director Panetta condemns Marines peeing on dead Taliban with "utterly deplorable"  comment.   Ain't that the pot calling the kettle black?  ."
Defense Secretary Leon Panetta on Thursday condemned as "utterly deplorable" a video that purports to depict four U.S. Marines urinating on the corpses of Taliban fighters, saying such behavior is "entirely inappropriate for members of the United States military" and those responsible will be held accountable.
Panetta said he had ordered the Marine Corps and Marine Gen. John Allen, the top commander of the NATO-led forces in Afghanistan, to fully investigate.
What my readers want to know is who can order an investigation of the actions of former CIA Director Panetta on the "black ops" missions that he ordered?  Worldwide missions, not just in Iraq and Afghanistan, but Worldwide is what I am told.
Some actual operatives who participated in deep covert actions in Asia, South America and Africa are considering "spilling" the beans to the media, depending on what happens to these four Marines .
The Marine Corps said Wednesday it would investigate the YouTube video but had not yet verified its origin or authenticity. The case has been referred to the Naval Criminal Investigative Service, the Navy's worldwide law enforcement arm.
The video, posted on the Internet, shows men in Marine combat gear, standing in a semi-circle over three bodies. It's not clear whether the dead were Taliban or civilians or someone else. The title on the posting called them Taliban insurgents but it was unclear who added that title, Marine Corps officials in Washington said.
The reaction from Afghanistan was angry.
Afghan President Hamid Karzai condemned the video as "completely inhumane."  Completely inhumane?  This is the comment from the guy whose brother runs the largest narco ring on the planet?  You kidding me?
The Afghan Defense Ministry called it "shocking."  Shocking?  You know what shocking is?  Shocking is when leaders in the Defense Ministry are told about abducted girls being sold over drug debts and the defense ministry does nothing, that's shocking.
And the Taliban issued a statement accusing U.S. forces of committing numerous "indignities" against the Afghan people.   Sweet mother of god, you double kidding me?  The frigging Taliban complaining about "Indignities?".  Wait a minute, that video I saw of Taliban justice in the Kabul soccer stadium, you know the one, the one where they behead the guy, remember?  That was an Indignitie, but peeing on dead Taliban, well, not to this columnist.
"First they killed the Afghans with mortars, and they then urinated on their bodies," Taliban spokesman Zabiullah Mujahid said. "We strongly condemn this inhumane action by the wild American soldiers."  OMG, the "Inhumane action?   That's the quote from the Taliban?  Oh yeah, right, and this is the same group who have their women dress up in Halloween costumes,  something called a burka,  because no man should ever see a woman's face?  Give me a break.
Panetta said the actions of these Marines, if true, were inexcusable.   Now, this comment is from the guy who ordered the extreme sanctions in Somalia?  That right?  And the actions in Turkey?  Same guy?  Yeah Mr Secretary, people are now talking about what YOU ordered, on your watch, not someone else's watch, yours.
"I have seen the footage, and I find the behavior depicted in it utterly deplorable.  I condemn it in the strongest possible terms," Panetta's statement said. "Those found to have engaged in such conduct will be held accountable to the fullest extent."   Yeah, and when that happens, the people speaking to me, will do what they know they need to do too.  They will drop the dime on you Leon.  And your best kept nightmares will be let out of the box.  Think about that tonight after you read this post.
The video came to light at a delicate time in relations among the United States, Afghanistan's elected government and the Taliban insurgency fighting for both territorial control and cultural and religious preeminence in Afghanistan. The U.S. is trying to foster peace talks between the Karzai government and the Pakistan-based Taliban high command, and has made unprecedented offers to build trust with the insurgents, including the planned opening of a Taliban political office to oversee talks.
One of the largest obstacles to peace discussions has been widespread Afghan contempt for U.S. military tactics that many — both Taliban sympathizers and not — see as heavy-handed. Opposition to the U.S. and NATO military presence in Afghanistan usually centers on civilian casualties from military engagement, although the vast majority of those deaths are caused by the insurgents.
Although the video purports to show Taliban fighters, not civilians, it is likely to resonate with those opposed to the U.S. presence and to peace with the U.S.-backed Karzai government. In his statement, Karzai called on the U.S. military to punish the Marines.  I would think we punish the Marines at the same time Karzai punishes his brothers keepers.
Yeah, right.  Karzai was chosen for a two year term as Interim President during the 2002 loya jirga (grand assembly) that was held in Kabul, Afghanistan.  Then elected to a five year term and now another five year term with all kinds of reports of funny business, hmmm, think maybe Panetta had any hand in that as the former CIA director?
The NATO-led security force in Afghanistan released a statement Thursday saying, "This disrespectful act is inexplicable and not in keeping with the high moral standards we expect of coalition forces."
The actions "appear to have been conducted by a small group of U.S. individuals, who apparently are no longer serving in Afghanistan," the International Security Assistance Force said. The statement did not identify the personnel or explain why the ISAF thought they had left the country.
A spokesman at Camp Lejeune in North Carolina would not confirm reports that the Marines were based there. "We have had elements of that unit that have deployed to Afghanistan and have returned. However, we have not yet confirmed if anyone in the video is from that unit, or whether they are attached to a unit from Lejeune," said Capt. Scott Sasser.
Sen. John McCain, a Navy veteran who fought and was held prisoner in the Vietnam war, said the incident "makes me so sad."
McCain, the top Republican on the Senate Armed Services Committee, called the Marine Corps one of America's strongest institutions and said its image has apparently been tarnished by "a handful of obviously undisciplined people."
"There should be an investigation and these young people should be punished," McCain, R-Ariz., said Thursday on "CBS This Morning."
Pentagon officials said the criminal investigation would likely look into whether the Marines violated laws of war, which include prohibitions against photographing bodies and detainees and a range of other rules.
In an emailed statement, Taliban spokesman Mujahid said, "During these 10 years American soldiers have tortured our people in various ways, they have shown disrespect to the holy Quran and other holy books, they have burned our bodies, they have killed and tortured our women and children and … have committed other hateful actions."
Have we lost our minds?  This quote is  from the Taliban?  They must think we are the ones who are living in caves up in the mountains.  We are not the ones living in the 7th century dude, wake up, you hosted Bin Laden and his crew to plan attacks on us, for that,  you pay the price.  If Bin Laden was in Iran, we would be there too, and for all you yahoo's who think Bin laden didn't have anything to do with attacking America, spare me the emails.
Mujahid urged the U.N. and other international groups to end such actions by U.S. troops.
On Wednesday, the Council on Islamic-American Relations, a prominent Muslim civil rights and advocacy group based in Washington, protested the video in a letter to Panetta.  Sweet mother of God again, the CIAR said they protested this video?  Yeah right, I forgot, what a shock.  Where were they on September 12th, 2001 with their letter to the American People?.   Who were they protesting them?
"We condemn this apparent desecration of the dead as a violation of our nation's military regulations and of international laws of war prohibiting such disgusting and immoral actions," the group wrote.
"If verified as authentic, the video shows behavior that is totally unbecoming of American military personnel and that could ultimately endanger other soldiers and civilians," the letter said.
Marine Corps headquarters at the Pentagon said: "The actions portrayed are not consistent with our core values and are not indicative of the character of the Marines in our Corps. This matter will be fully investigated."
A Marine Corps spokesman, Lt. Col. Stewart Upton, added, "Allegations of Marines not doing the right thing in regard to dead Taliban insurgents are very serious and, if proven, represent a failure to adhere to the high standards expected of American military personnel."
ATTENTION READERS
Due to the nature of independent content, VT cannot guarantee content validity.
We ask you to
Read Our Content Policy
so a clear comprehension of VT's independent non-censored media is understood and given its proper place in the world of news, opinion and media.
All content is owned by author exclusively. Expressed opinions are NOT necessarily the views of VT, other authors, affiliates, advertisers, sponsors, partners or technicians. Some content may be satirical in nature. All images within are full responsibility of author and NOT VT.
About VT
-
Read Full Policy Notice
-
Comment Policy